Yaskawa's Smart Pattern for Smart Pendant Extension is available at no charge!

Yaskawa's Smart Pattern for Smart Pendant Extension, available at no charge!
The easy-to-use Smart Pattern extension is a graphical interface for Smart Pendant to generate jobs quickly to handle parts in specific pattern(s).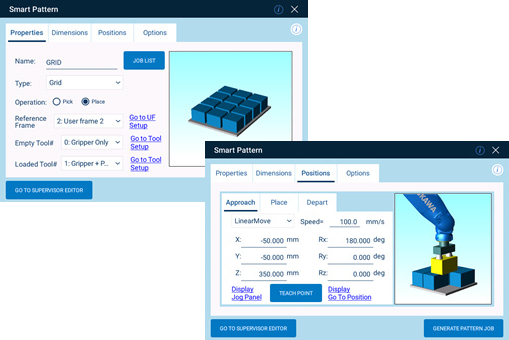 Features and Benefits:
Supports the most common applications such as: machine loading/unloading, stacking, unstacking, case packing, etc.
Provides an intuitive user interface with guided prompts for pattern program generation steps.
Generates two types of jobs:

Pattern: defines a specific pattern and robot movement for handling each part in the pattern.
Supervisor: defines which patterns should be used to pick and place parts, as well as the overall flow of the system, including basic I/O signals.

Supported pattern types include:

Single Part
Grid (2D Array)
3D Grid (3D Array)
Stack

The Smart Pattern Extension is compatible with numerous types of grippers and end-of-arm tooling
Available for use with HC-series and GP-series robots.
Minimum Requirements: YRC1000/YRC1000micro with Smart Pendant version 2.0.4 or later.
Learn more: www.motoman.com/smartpattern